Save the Trail 5k
5-25-13
Photos by George Buckheit
Way to Go!
Anna Holt-Gosselin is 3rd OAF in 19:08
Jessica McGuire is 4th OAF in 19:09
{photo of Anna with Jessica just behind}

Jessica Chin is 5th OAF in 19:33

Kerry O'Brien in 24:04
{no pic :(}
Cascades 10k
5-25-13
Great Job!
Tony Black is 1st in AG in 43:05
Olesja Ossipenka in 44:05
Emmaus Dash & Splash 5k
5-25-13
Congratulations!
Jessica Roberts brings home her first race win on a slightly long course in 20:07
Buffalo Half Marathon
5-26-13
Nice Job!
Allison Rainey PR's in 1:41:20!
Allison met up with CAR Alumni for the race:
Katie Ingram runs the full Marathon in 4:28:33
Thom Ingram runs the Half Marathon in 1:59:02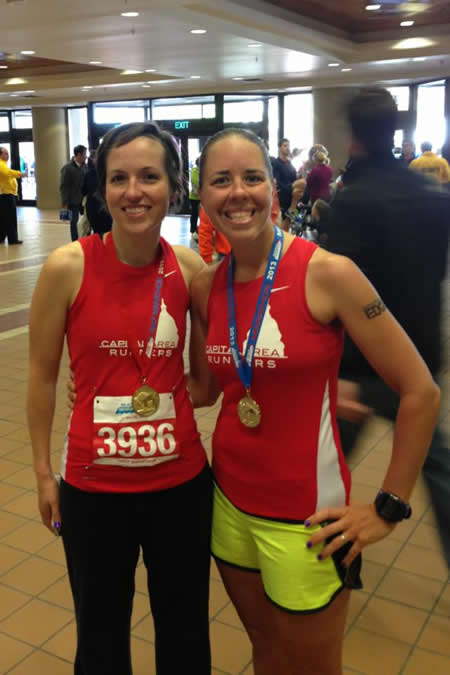 It's About the Warrior Foundation 5k
5-26-13
Great Job!
Ashley Kollme wins the women's race in 19:05!
Alexandria Running Festival
5-26-13
Way to go!
Half Marathon
John Haederle in 1:29:14
Liz Greenlaw is 7th OAF in 1:33:39
Dayle Lademan is 2nd AG in 1:40:32
5k
Robin Vanneman is 4th OA in 21:27
Bolder Boulder 10k
5-27-13
Congratulations!
Nora O'Malley in 39:44
Janet Braunstein in 47:16
Loudoun Street Mile
5-27-13
Great Job!
Chris Mills is 3rd OA in 4:20
Susanna Sullivan is 4th OAF in 5:01
Heather Jelen is 8th OAF in 5:16
Jillian Pollack is 10th OAF in 5:24
Cris Burbach is 11th OAF in 5:30

Ringing in Hope 5k/10k
5-27-13
Great Job!
5k
Liz Hollis wins the women's race in 20:26
10k
Elizabeth Clor is 2nd in AG in 48:29