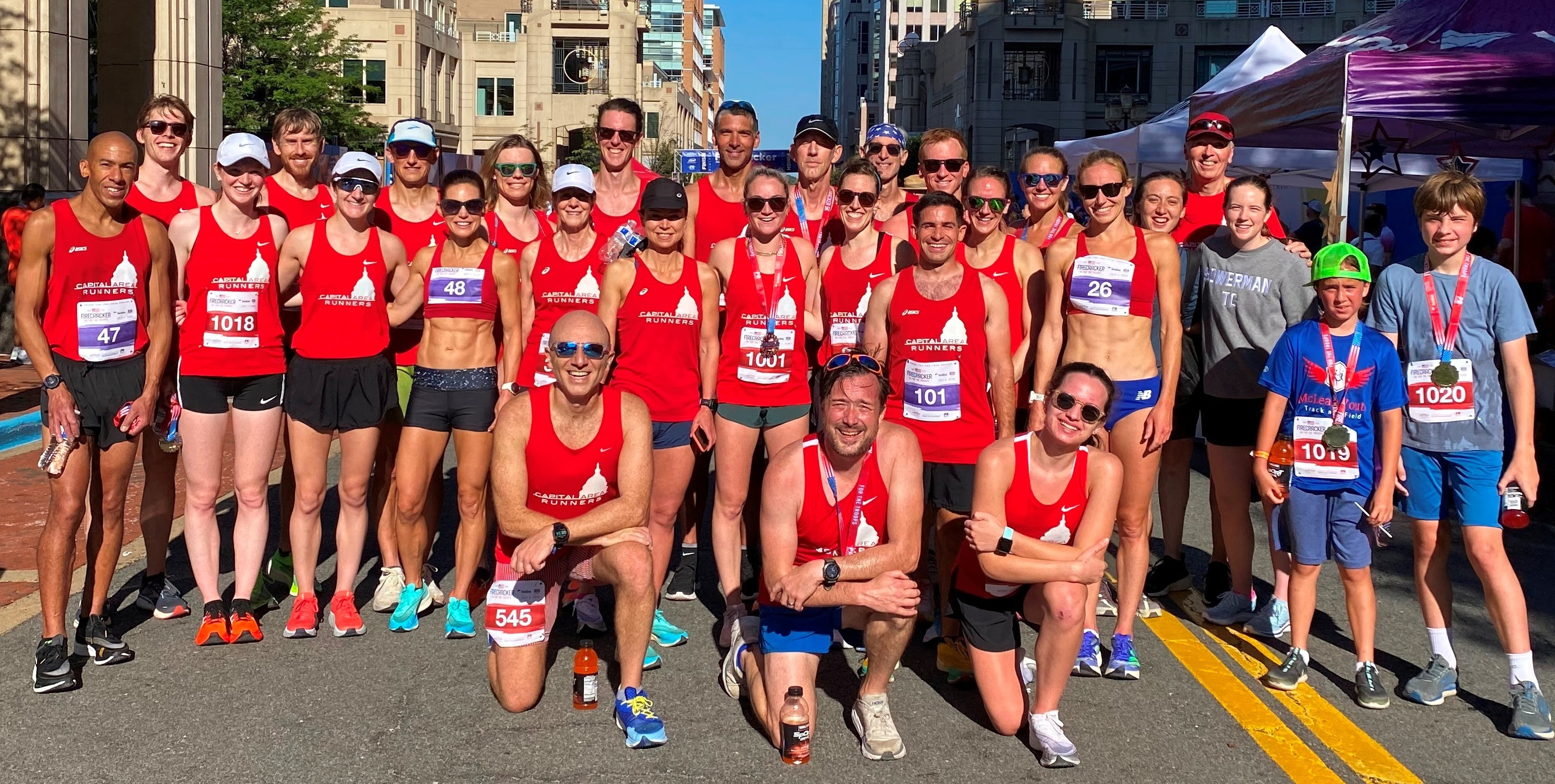 At this morning's Reston Firecracker 5k, Susanna Sullivan was the women's overall winner in 16:24, followed by Lindsay Wilkins (18:59; 7th overall and 1st master), Bailey Wilson (19:04; 8th overall), Emma Unterkoefler (19:11; 9th overall), Gabrielle McKenzie (19:14; 10th overall), Libby Davidson(19:22; 11th overall), Sharon Snyder (20:36; 1st 35-39 AG), Callie Wallace (20:38; 2nd 15-19 AG), Caroline Lauver (23:15) and Pat Neff (26:20; 1st 65-69 AG). Philippe Rolly led our CAR men in 16:29 (6th overall and 1st master), followed by Alex Peterson (16:52; 9th overall and 1st 35-39 AG), David Resnick (17:42), Eric Genetti (17:45; 2nd master), David Kent (18:00; 1st 50-54 AG), Thomas Blackwell (18:22), Sam Schilling (18:35), Brad Hardin (19:02; 3rd 40-44 AG), Matt Purdin (19:25), Stephen Siegel (19:55; 4th 55-59 AG), Matteo Iacoviello (20:03; 3rd 45-49 AG), Will Ellison (20:20; 5th 55-59 AG), Chris Carney (21:10), and JD Hala (21:29). There were also a couple of outstanding performances from CAR kids with Greyson Carney running 23:43 and Leila Carney running 29:47. 
Rihana Knotts was the women's runner up at the Battle for Independence 5k in Wilmington, NC in 18:39.9 (PR).
Former CAR Erin Swain Taylor (now an NC resident) was 4th overall in 19:29.5. 
Sami King was the women's winner at the Montgomery Village 5k in 19:57 and Elissa Burack was 2nd overall in 20:41. Matt Kaler was 3rd overall in the men's race in 17:55. Kristin Donlin ran 22:28 at a 5k in Bethany Beach. 
Andrea Delgado ran 24:31 for 3.5 miles on what was supposed to be a 5k course in VA Beach.
Congrats to all! That was some outstanding racing this weekend!